4 Ways to Recycle Crayon Bits
I think it's a safe assumption to make that if you have kids in your house, you also have crayons. And, somewhere there's a box or a bag filled with broken crayon pieces that no one has the heart to throw away. Luckily, there are several ways to recycle some of those crayon nubs. Here are four fun crafts to get your creative juices flowing.
They've been called chubby crayons, muffin tin crayons and a variety of other names. It's a simple project that recycles all those broken pieces and makes them whole again! These actually make great party favors and gifts too.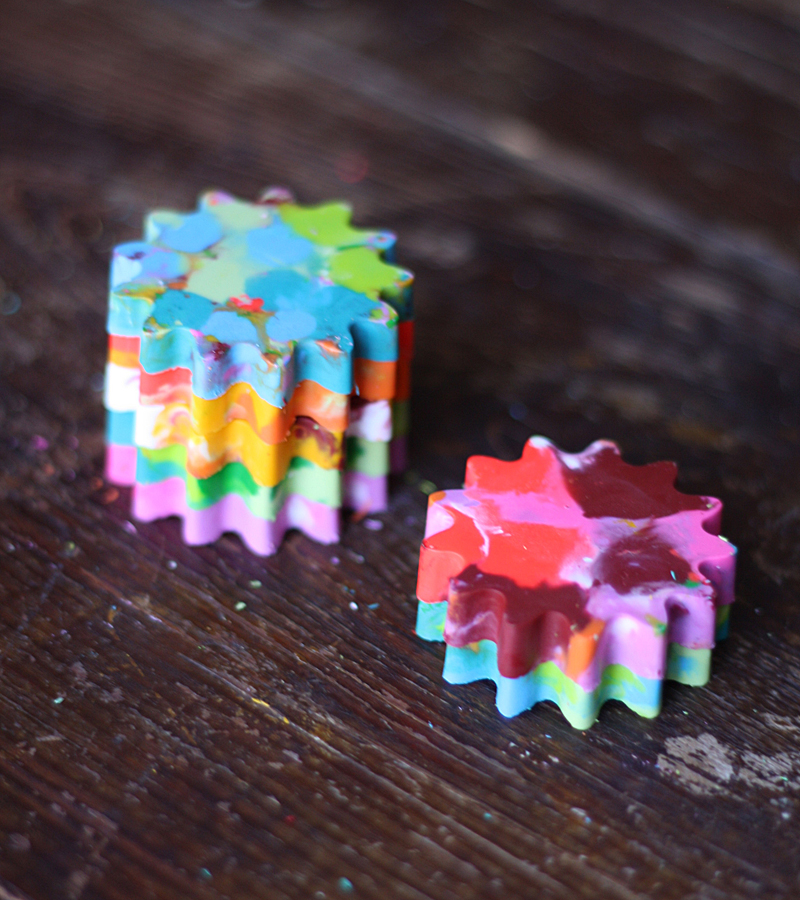 You will need:
Broken crayon pieces, paper removed
Silicone candy mold or a mini muffin tin
Preheat the oven to 350 F and place your candy mold or muffin tin on a baking sheet. Place broken crayon pieces into the molds (you can fill the molds full for thicker crayons). Bake for 5-7 minutes. Watch carefully because they can scorch if left in too long. Thinner crayons, like mine, take about five minutes while thicker ones may take seven. Remove from oven and let them cool for several minutes, then pop them out of the molds and start again!
Here's another fun craft that's been around for a long time. The beauty is that no two sun catchers will ever be the same!
You will need:
Waxed paper
Plain white paper
Broken crayons
Iron
Scissors
Needle and thread
This one requires more parent participation as you'll be working with a hot iron and sewing needles. Turn the iron on the medium setting (wool). Line your ironing board with plain white paper. Place a long sheet of waxed paper over the white paper. Shred crayons bits using an old cheese grater or a dollar store pencil sharpener. A vegetable peeler works as well! Sprinkle the crayon shavings over the top of the waxed paper. Be sure to keep them spread apart. If you use too many all of your colors will blob together. Place another sheet of waxed paper over the top, then cover that will more plain white paper. Slowly run the iron over the paper to melt the crayons, keeping the iron moving. You only need to do this for 5 or 6 seconds, then lift the paper to check and see if the crayons are melted. Remove the paper and allow the wax paper to cool for a few minutes. Cut into shapes. Use a needle and thread to add a hanger.
You will need:

Waxed paper
Plain white paper
Broken crayons
Iron
Scissors
16 craft sticks
Glue gun or tape
LED tea light candle
Taking the sun catcher idea to another level, Artsy Fartsy Mama made a DIY Wax Paper Lantern that I just had to try. The instructions for the wax paper and crayons is the same as the sun catchers above, then you build a simple lantern frame from craft sticks. Glue 4 together in a square then repeat that three more times for a total of 4 sides. Trim your waxed paper creations to approximately 4.25-inches square and tape or hot glue (parental supervision recommended) to the frame. Tape all four frames together and place the lantern over an LED tea light.
You will need:
11×14 canvas
Broken crayons
Hair dryer
Fork
Finally, I found this really cool video (you can watch it below) showing how to use a hair dryer, a fork and broken crayons to make colorful modern art! You will notice that their art has large full splatters while mine are much thinner and more precise. The power of your hair dryer truly plays a part in this project. Mine is a bit outdated and definitely does not have the power that the one in the video has. However, it still produced a beautiful piece of art and I think kids would love making either version!
There are many ways to use up crayon nubs, so be sure to save them for fun projects such as these!
Amanda Formaro is a well-known craft expert and has been writing and crafting on the Internet for over fifteen years. Find out more on her blog, Crafts by Amanda, where she shares tutorials with step-by-step photos for adults and kids alike.