3 Glittery Craft Stick Projects
It can't be avoided, there's something magical about glitter, and kids just love it! Add some of that magical glitter to the ever-famous craft stick, and you have a crafting day that everyone will love! Here are 3 classic craft stick ideas turned glittery with just a few supplies needed.
For these glittery craft stick ideas you will need:
Regular or jumbo craft sticks
Craft paint
Glitter or glitter glue
White craft glue
A Christmas tree with glittered ornaments makes a pretty table setting ornament, an ornament for hanging on the tree, or even a fun 3D addition to a homemade card.
To make a Christmas tree, paint three craft sticks green and when dry, glue together to form a triangle. Create circles of glue on the craft stick tree, then sprinkle them all with different colored glitters. Let them dry for about an hour, then tap off the excess glitter.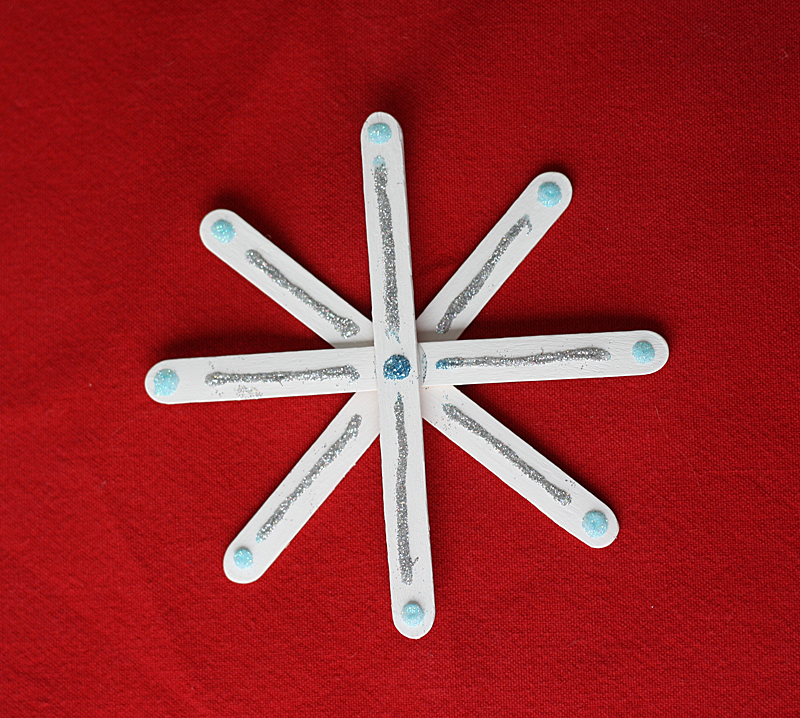 It wouldn't be winter without beautiful snowflakes falling from the sky. Make your own shiny snowflakes to use as decorations, or hang from yarn on your Christmas tree.
For the snowflake, paint four craft sticks white. When they are dry, glue one over another to create a "plus" sign, then glue two more at the diagonal ends (basically glue another plus sign on top of the first, only shifted!). Add designs to the snowflake using your glue bottle, then sprinkle with shades of blue glitter, throw in some silver if you like as well. Allow to dry for one hour then tap off the excess glitter.
Ah snowmen, that iconic symbol of not only winter, but Christmas too! Snowmen are so fun to make because they are so gosh darned adorable! Craft sticks are a great way to create your own.
Paint jumbo craft sticks white. When dry, draw eyes, a nose, scarf and buttons using glue bottle. Sprinkle with glitter (black for eyes, orange for the nose, etc) and allow to dry for one hour. Tap off the excess glitter to reveal your snowmen!
Want more fun with craft sticks? Try this Winter Diorama or if it's winter and Christmas ideas you're after, these Paper Plate Christmas Characters may be just the thing!
Project created by Amanda Formaro for Kix Cereal. Amanda is a well-known craft expert and has been writing and crafting on the Internet for over fifteen years. Find out more on her blog, Crafts by Amanda, where she shares tutorials with step-by-step photos for adults and kids alike.