April Fools' Day Food Tricks to Play on Your Kids
Who better to play April Fools' Day tricks on than your kid? Watch as they fill their cereal bowl with milk that's not quite right, and giggle as they bite into lunch that's a bit too sweet.
As long as they can pour their own milk they can be fooled by this cereal turning… blue. Or green. Or pink. Or any of their favorite colors.
To make April Fools' Day cereal, place a few drops of food coloring in the bottom of a cereal bowl. TIP: If the food coloring is concentrated, add a tablespoon or two of milk and stir to dilute.
Place dry Kix cereal on top of the food coloring or the food coloring and milk mixture to cover completely.
Have kids pour their own milk, and their favorite color will fill the bowl.
And how about some delicious chicken nuggets with ketchup for lunch? Dig in, kids. Ha! It's actually a Kix cereal treat dipped in icing, so they get dessert for lunch. The joke is on…. Oh. Us.
To make April Fools' Day "chicken nuggets with ketchup":
You will need:
For the Kix treats:
2 tablespoons butter
2 cups mini marshmallows
2 to 3 cups Kix cereal
For the "chicken nuggets":
2 cups Kix cereal
Ziptop bag
Mallet or hammer
2-inch oval cookie cutter*
1 ½ cups white candy melts*
2 teaspoons vegetable shortening (optional)
Baking tray
Parchment paper
Wax paper
Wire cooling rack
For the "ketchup":
1/3 cup confectioner's sugar
2 teaspoons milk
Red food coloring*
*Find cookie cutters, candy melts and food coloring in the craft store or online. This time of year, you should be able to find Easter egg cookie cutters. If not, use an inexpensive circle cutter and bend it into an oval.
First, prepare Kix treats. Place the butter and marshmallows in a medium to large microwaveable bowl. Microwave for 90 seconds to 2 minutes, or until the marshmallows puff up and are almost melted. You may also melt in a saucepan on the stovetop, if you prefer. Stir well until smooth. Immediately stir in 2 to 3 cups of Kix cereal. Press into a greased, 9-inch by 9-inch baking dish and let cool to the touch, at least 15 minutes. When cool, cut out ovals with the cookie cutter and set aside. You should have about 12 ovals.
Second, prepare your coating. Preheat the oven to 375 degrees F. Place 2 cups of Kix cereal in the ziptop bag and crush with the mallet or hammer. Be sure to place a towel or cutting board beneath the bag to protect the surface beneath. Line a baking tray with parchment paper and spread the crushed Kix on the tray. Bake for 7 to 9 minutes, or until the cereal begins to brown. Start to watch the cereal at 5 minutes to be sure it doesn't burn.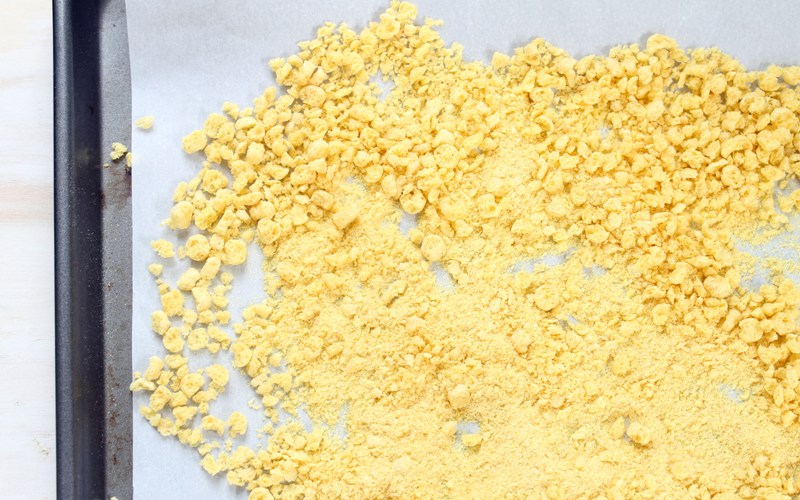 Third, make your "chicken nuggets." Line a baking tray with parchment or wax paper. Place the wire rack on the tray. Place the oval cereal treats on the wire rack and set aside. Place 1 ½ cups of white candy melts and 2 teaspoons of vegetable shortening (optional, but the shortening helps thin the melts) in a microwave-safe bowl. Melt according to package directions, on 70 percent power for 90 seconds and then at 30 second intervals until fully melted. Spoon the melted candy melts on the cereal treats. Immediately coat generously with the crushed Kix, and try to cover the sides as well. Let the treats set at least 30 minutes and serve with "ketchup."
Fourth, make your "ketchup." Stir together confectioner's sugar with milk and several drops of food coloring. If needed, add more sugar to thicken or more milk to thin.

Meaghan Mountford, author of Sugarlicious: 50 Cute and Clever Treats for Every Occasion, has been creating crafty sweets for 15 years. She is especially fond of decorating cookies, marshmallows and putting sweets on sticks. See more on her blog, the decorated cookie.