Dollar Store Craft: Chinese New Year Paper Plate Lantern Craft
Kung Hei Fat Choy! That's a common greeting for Chinese New Year, and it means "Wish you make a fortune." Celebrate Chinese New Year with this fun and festive paper lantern craft that is made using a paper plate and some supplies from the dollar store.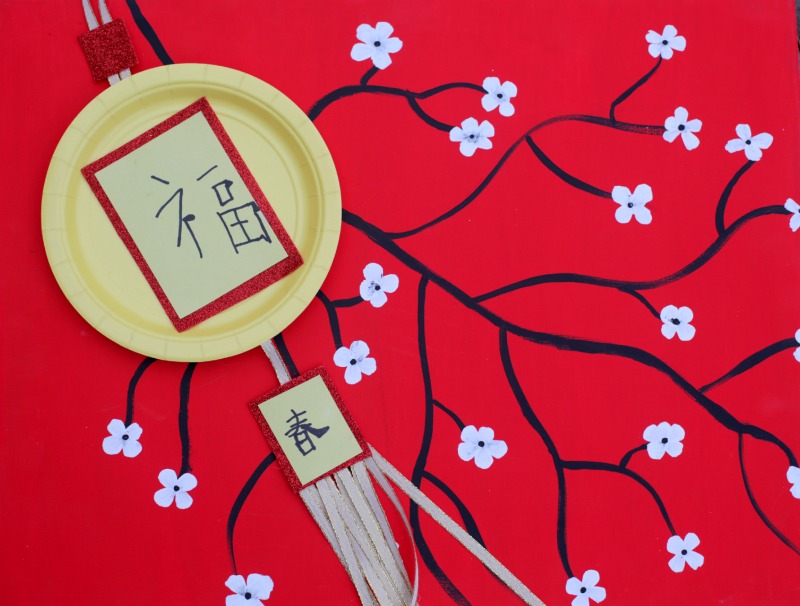 The colors used in this craft are traditional Chinese New Year colors: red means good luck, and gold or yellow symbolize wealth and happiness.
We got our supplies from the dollar store (paper plates, sparkly craft foam, ribbon), and from our craft supply stash at home.
What you need to make a Chinese New Year paper plate lantern:
Paper plate (yellow or red)
Sparkly craft foam sheet (yellow or red)
Contrasting construction paper
Ribbon or yarn (gold, yellow, or red)
Craft glue
Marker
1. Write a Chinese New Year greeting on a piece of construction paper. We found our greetings at ChineseNames.org. We used the symbols for "fortune" and "Spring." Draw a second greeting on a smaller piece of construction paper to create the bottom charm on the lantern.
2. Glue the large greeting on a larger piece of sparkly craft foam. Trim to fit, then glue onto paper plate.
3. Glue smaller greeting onto a piece of sparkly craft foam. Glue several ribbons to the back of the square, dangling down like a tassel.
4. Glue tassel onto a ribbon glued to back of paper plate, dangling down from the bottom of the plate.
5. Glue a loop of ribbon to the top back of the plate.
Heather Mann is the mother of four boys, and is constantly on the lookout for fun games, activities, and recipes to keep her busy boys, well, busy. She designs and shares clever crafts with a frugal twist at her site Dollar Store Crafts.