Clothespin Sharks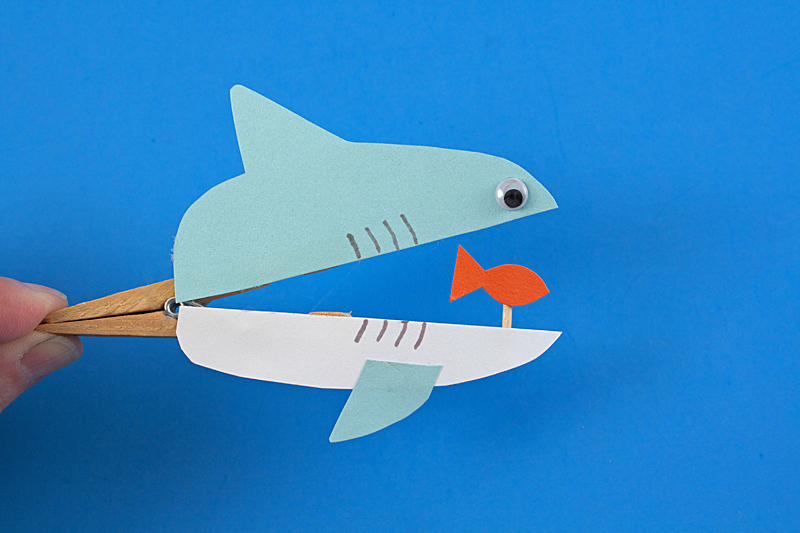 Do your kids love sharks and all things oceanic? Whether it's Shark Week or just a regular Tuesday, this fun clothespin shark is silly and cute, and not too scary. Your kids will have fun pretending to chase the little fish and catch him in their shark's mouth!
You will need:
Wooden clothespin
Light blue (or gray), white and orange card stock
Toothpick
Googly eye
Shark pattern
Tools: scissors, glue stick, hot glue gun, gray marker
Safety note: When using a glue gun we suggest that parents handle it themselves, or if their children are comfortable with its use, parents should closely supervise.
Use the shark pattern to cut the top half and the bottom fin from blue paper, and the bottom half of the shark from white paper.
Cut the fish from orange paper. Cut the toothpick to about 1-inch in length. Hot glue the toothpick to the back of the orange fish. Use glue stick to attach the blue fin to the white body.
Hot glue the the bottom of the toothpick to the back of the white body, about half an inch from the end of the mouth.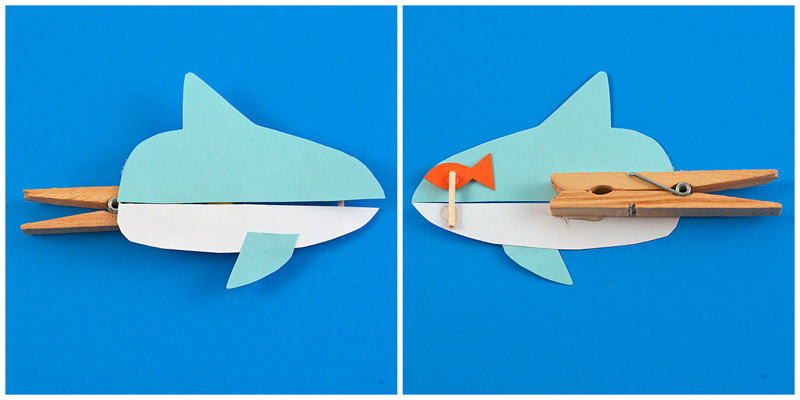 Glue the shark body pieces to the clothespin, starting at the spring leaving the handle end exposed.
Use a gray marker to draw on the gills. Glue on the googly eye.
You will need to bend the white part of the shark a little so that when you open and close the mouth, the small fish doesn't hit the top of the shark.

Project created by Amanda Formaro for Kix Cereal. Amanda is a well-known craft expert and author of the  books "Rubber Band Mania" and "Duct Tape Mania", the first two in a series of craft books for kids. She has been writing and crafting on the Internet for over fifteen years. Find out more on her blog, 
Crafts by Amanda
, where she shares tutorials with step-by-step photos for adults and kids alike.